Bella Vita
This is a sandbox design concept on Briefbox.me
Bella Vita is an easy-to-navigate app that promotes community events, groups and programs to connect seniors which aims to avoid feelings of isolation and help them get involved in activities.
MY ROLE Visual and Interaction Designer
SECTOR Non-profit/Recreational
TYPE iOS Application
The goal of the project is to come up with a simple layout and colourful user interface that viewers can easily navigate.
The company basically needs a logo design. Therefore, I started exploring shapes that convey life, sense of fun and ray of sunshine. I chose sun and sunflower as perk up symbols.
The app design journey started with identifying the problem, the goal, and extensive research on challenges and user restrictions to create a simple and intuitive app.
I created low fidelity wireframes andidentified main steps to iterate through design user flows.
In designing for elderly users, I was meticulousin choosing the colours to use, typography and button sizes. Colour vision declines with age so using colours with high contrast is a must as it is easier to differentiate between colours. I avoided all shades of blue.
Upper and lower cases were used for readabilityand helps avoid eye fatigue.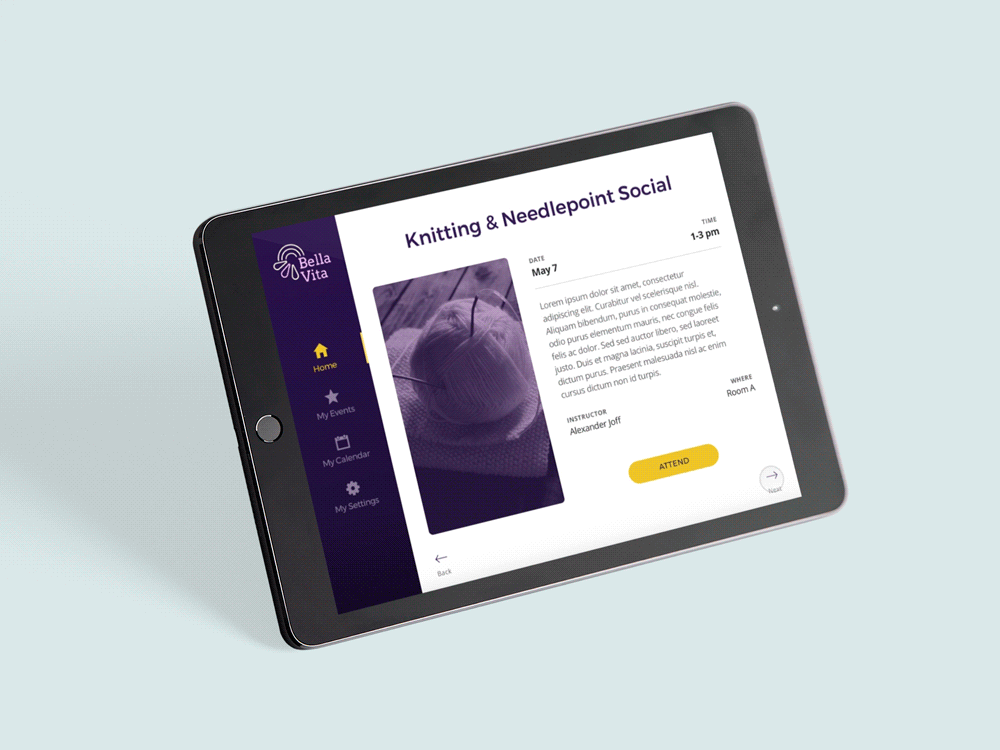 Older people use digital technology differently. It is best to avoid cognitive overload and multiple screens as well as less clicking. The menu category is simple and concise. A short description of the activity, date and time is shown in the homepage.
CONFIRMATION AND SETTINGS
After selecting an event, the users will get a confirmation and a reminder through their email and telephone number they provided when they signed up.
Easy to use Settings page, where they can adjust text size and brightness. No need to put complicated security and privacy controls.